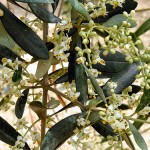 Olive Oil is so much a part of Italian cooking.  In fact good quality olive oil can make the difference to your meal. We use it in almost everything! Not only does it enhance the flavour it is so good for you. So much is now available to us in the variety of oils and the brands available on the shelves and with Australia charging ahead full steam.
For such a long time we never had an Australian made olive oil now we have farmers, families and artisans dedicated to bringing us this rich liquid gold, or green which ever colour you prefer.
The following photographs are from an Artisan Olive Oil company in Italy. Here we can see the ripened olives ready for the next step.  Once olives are prepared they are then ready for the crushing.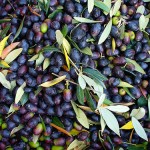 The olives are gathered and placed into the crusher. Huge granite stones turn and crush the olives into a thick paste.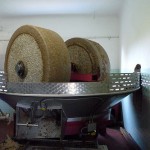 Crushing with granite stones was a method done since ancient times yet some producers have reverted to using this method as it does the job very well without totally obliterating the olive.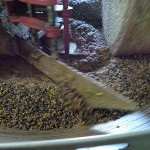 This crushing used with the stones does so slowly which allows everything to mix evenly. From there this paste is removed and then it is ready for spreading onto the mats.
The paste goes through a machine and spread evenly onto the mats. Each mat is then stacked up on top of each other in a large bowl/drum.
From here when the stack reaches a certain height it is then placed underneath the hydraulic press ready for the extraction of the oil.  And so the process begins of the oil extraction. Slowly the oil starts to seep out and as the press keeps lifting the stack until all the oil seeps until the paste is dry and the extraction is finished. From here the oil is placed into the filter and straight out, ready for consumption. Beautiful, green and fragrant oil made with no preservatives, no chemicals cold pressed.